COMPREHENSIVE MAILROOM MANAGEMENT SOLUTION
If you do not want the handling of incoming and outgoing mail to cause delays, increase your labour costs and hinder fast and efficient communication within the company as well as with external partners and customers, you can now solve the issue efficiently with our mailroom management solution.
Effective mailroom management is hard to achieve as the mail comes in and goes out of the company via different channels. Centralized mail processing, easy record keeping and recipient notification service are just some of the benefits of the mailroom management solution. Speed ​​up your communication inside and outside the company!
FROM RECEPTION TO DISPATCH AND E-STORAGE OF YOUR MAIL
In order to establish end-to-end mailroom management, your can either digitize several processes simultaneously or opt for gradual implementation of process support.
You can digitize your incoming mail on your own or outsource mailroom management and scanning to an external provider. Daily mail scanning is always followed by the centralized capture of documents received by fax, e-mail, or electronic document exchange systems.
In the next step, the mail is classified and forwarded (manually or via selected business rules) to the intended recipients within the company. The business solution enables subsequent addition of documents with a higher confidentiality level, which are not opened and digitized in the mailroom due to business rules.
Context-based management of incoming mail allows the highest degree of systematicity and control. The subject folder is automatically numbered according to a pre-set rule and users can easily add new documents. When receiving a new mail, users can choose to either create a new subject or add documents to already existing subjects. As they do so, a search engine opens to make it easier for them to find the target subject. The added document is automatically numbered and tagged with relevant metadata.
The main purpose of managing outgoing mail is to maintain central records of outbound regular mail, registered mail, registered mail with return receipt, and e-mail. In addition to recording, the business solution also enables inspection and verification of outgoing mail.
BENEFITS OF THE BUSINESS SOLUTION
Better accessibility
Quick and easy access to documents allows you to make timely business decisions.
Full traceability
You know at all times what is going on with your mail, where it is located, and who has accessed it.
Higher efficiency
Faster mail distribution allows you to run business processes more efficiently.
Cloud service
InDoc EDGE can be used
in Mikrocop's private Cloud.
On-premise
InDoc EDGE can be installed
in your data center.
CAPABILITIES OF MAILROOM MANAGEMENT SOLUTION
CENTRAL RECORDS
Centralized mail viewing across all channels
Access to information from a single point of entry
Manual or automatic user signing
Location is irrelevant (dislocated units)
CONTROL
Lower probability of recording errors
Classification of mail according to the classification plan
Monitoring the confirmation of receipt status
Full traceability of data access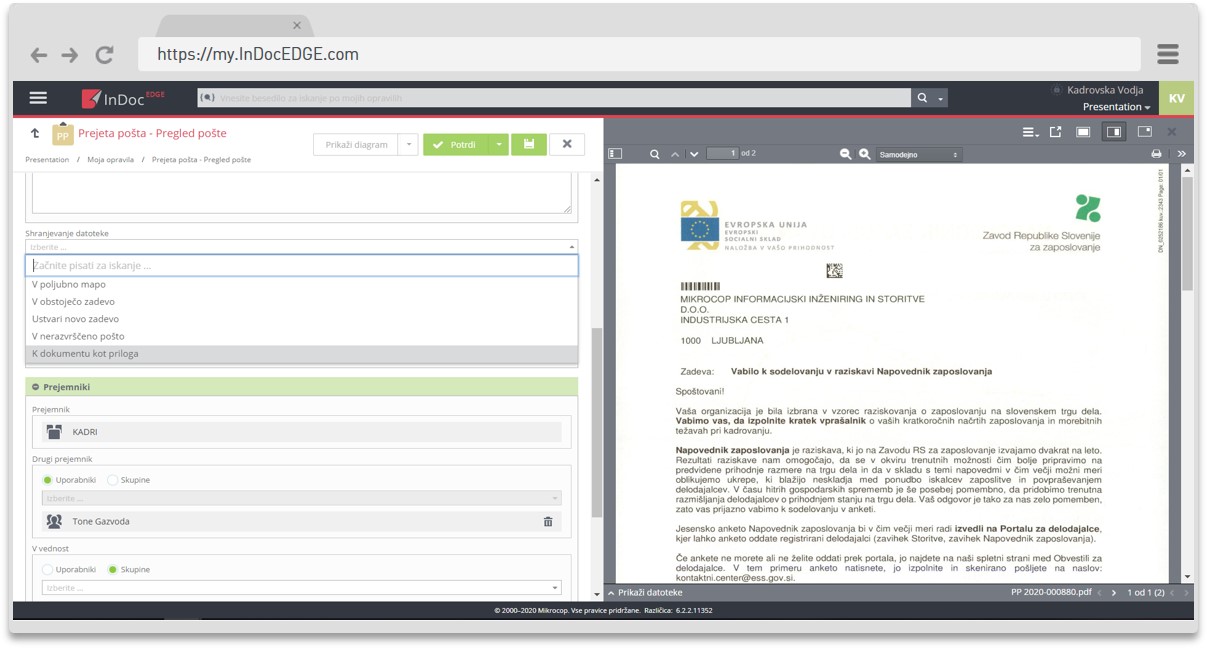 ORGANIZATION
Subject-based mail handling
Tagging documents to convey the level of confidentiality
Possibility of keeping internal mail records
Possibility of adding e-signature to outbound mail
CONNECTIVITY
Possibility of upgrading the solution as needed
Connectivity with other business solutions
Connectivity with Outlook and other mail systems