ISO DOCUMENTATION MANAGEMENT SOLUTION
Business excellence is closely linked to effective management of change and continuous improvement. If you run your business in accordance with the ISO standards, you know that ISO compliance requires a responsive and systematic approach to documentation management.
Improve your handling of ISO documentation through simple preparation, quick reviews and controlled modification of documents. Focus on the content, appropriate document placement and numbering, and leave the change management and notifications to business rules.
ISO DOCUMENTS – FROM PREPARATION TO E-STORAGE
PREPARE
and confirm the document
PUBLISH
the document and notify users
The business solution for managing ISO documents consists of several processes that form a whole. The solution guides you from the creation, placement and publication of a document to its subsequent modifications. Easy to administer, the solution enables you to automate the notification service about document versions, and the automated document numbering and labelling option makes work easier for your employees.
When you select the type of the ISO document, certain metadata will be automatically inserted based on predefined rules. You can create the document from a template or import it from your local repository. Then, the document content is confirmed by reviewers and a technical check is performed before the final approval.
When approved, the document can be published. For publication, the solution will create a new document or replace the previous version with the updated one. Users who need to be informed about document updates will receive a task requiring them to confirm the receipt of the document. The confirmation of receipt is recorded in the process history, which can be accessed in all phases of the document's life cycle.
Content revision is a systemic process of checking documents in the review or revision phase on a daily basis. The solution routes any document in need of revision to its administrator who can confirm the document (resetting the date of last revision), forward it for reversioning (update), or repeal it if the content is no longer relevant.
BENEFITS OF THE BUSINESS SOLUTION
Improved control
In every moment you know exactly in what stage a certain ISO document is, and full traceability enables you to effectively monitor document changes throughout its life cycle.
Efficient management
ISO document management is based on a systematic approach and preset business rules, which reduces the risk of error, improves transparency and enables faster and more efficient work.
Simple notification
Owing to frequent process improvements, ISO documents are subject to change. The business solution makes notification about document updates simple, quick and transparent.
Cloud service
InDoc EDGE can be used
in Mikrocop's private Cloud.
On-premise
InDoc EDGE can be installed
in your data center.
CAPABILITIES OF THE ISO DOCUMENT MANAGEMENT SOLUTION
COMPREHENSIVE MANAGEMENT
Steering processes through business rules
Automated checking of validity
Systematic notification and monitoring
Quick accessibility and simple search
EFFICIENCY
Using templates to create documents
Automated numbering system
Effective collaboration on documents
Simple versioning and version management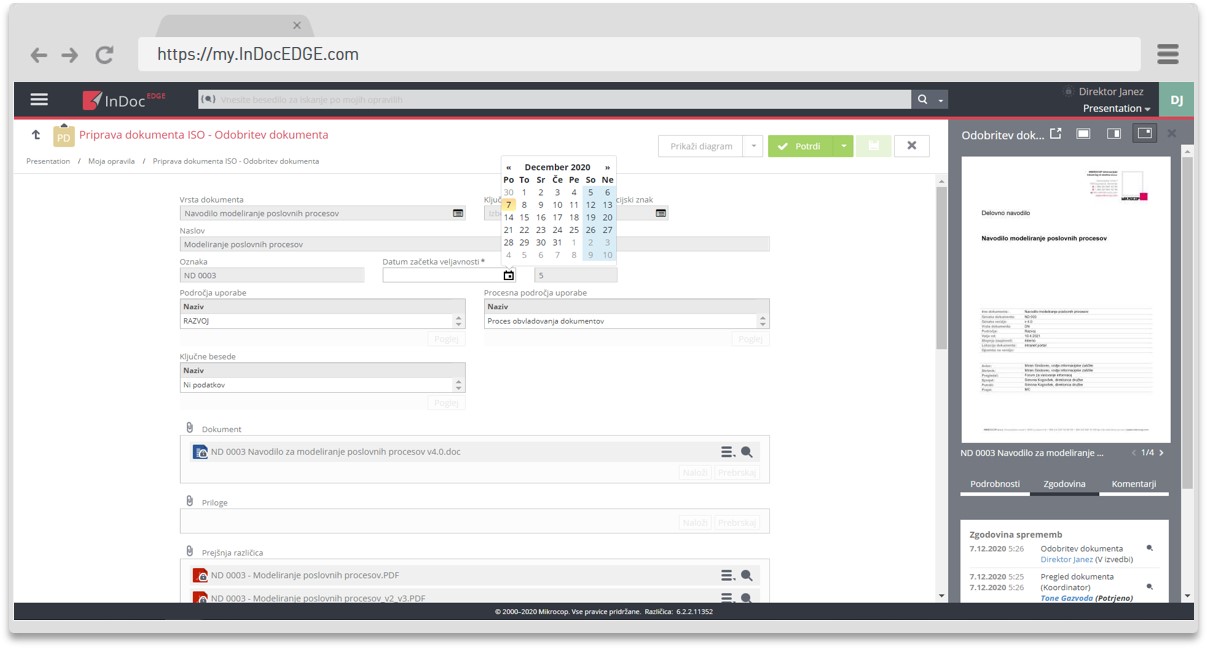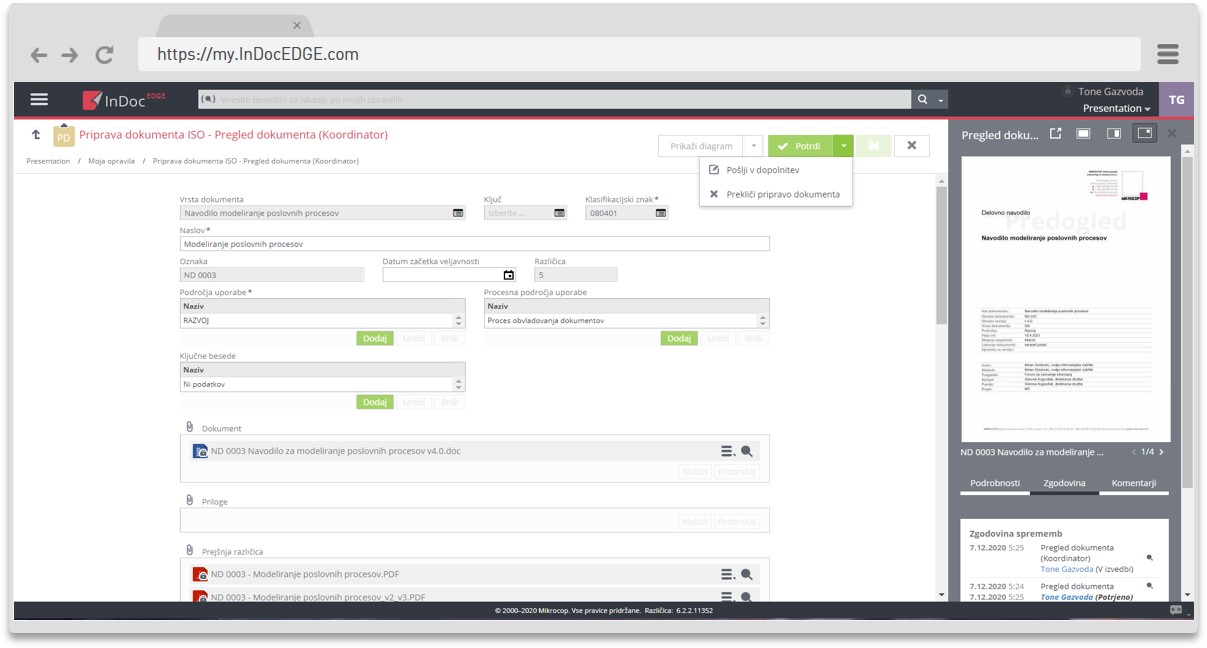 VALIDITY
Possibility of multi-level approval
Possibility of initialling or using a water stamp
Possibility of signing approved documents electronically
Access regulated through an advanced rights system
COMPLIANCE
Systematic overview of multiple documents
Time-stamping of all documents
Legally compliant electronic storage
Complete audit trail of all activities