InDoc EDGE DOCUMENT MANAGEMENT SYSTEM (DMS)
Managing documents throughout their lifecycle helps you bring order to the current information chaos. Embrace the capabilities of the document management system for more efficient teamwork, regulatory compliance, and mitigation of business risks.
CAPTURE AND CREATE
documents
ENSURE
compliance and security
DMS is a part of the
InDoc EDGE information
management platform
Cloud service
InDoc EDGE can be used
in Mikrocop's private cloud.
On-premise
InDoc EDGE can be installed
in your data center.
CAPTURE AND CREATE DOCUMENTS
ADD DOCUMENTS
You can use different methods of capturing and adding documents to DMS:
Scan paper documents
Manually add electronic documents
Import any existing electronic format document
Capture documents through integration
CREATE DOCUMENTS FROM TEMPLATES
Documents can be created directly in, or through, the document system using a wide range of available templates.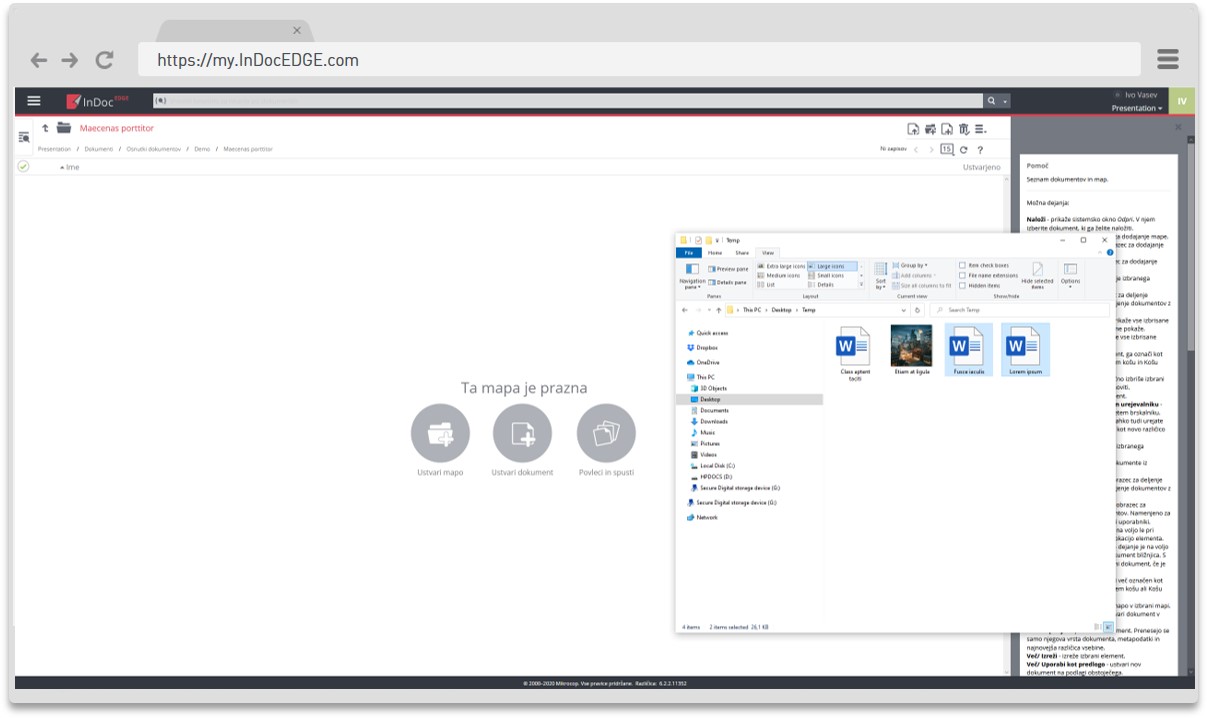 ORGANIZE CONTENTS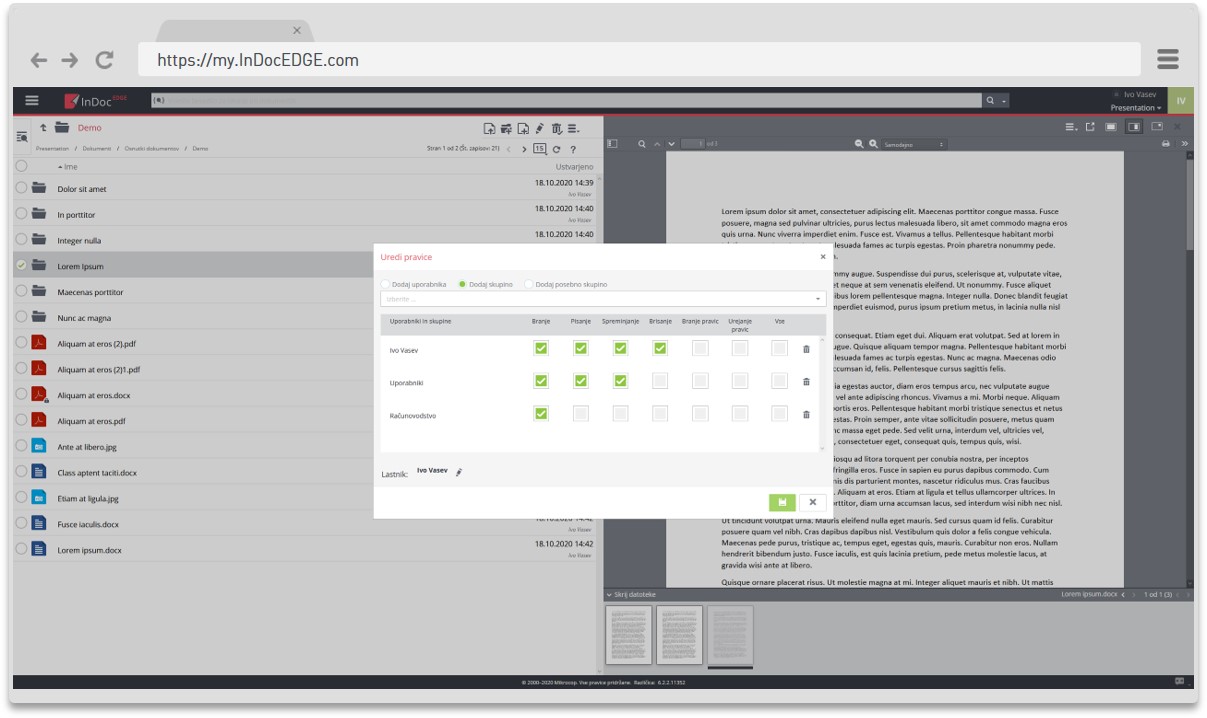 STRUCTURE DOCUMENTS
Documents can be organized into folders or grouped by subject, and their structure can be partially or completely predefined by the user.
USER AUTHORIZATIONS
You can configure access rights by user and user group, folder, subject, document or confidentiality level.
LINKING DOCUMENTS
Link documents to other documents for a better overview of the connections between documents or use shortcuts and prevent duplication.
MANAGE INFORMATION
EDITING AND VERSIONING
Document versioning is automatically updated with any file change, with document history and previous versions available for viewing at any time.
COMMENTS AND NOTIFICATIONS
Document comments and change notifications are enabled to facilitate more effective team collaboration.
ASSIGN FOR REVIEW
You can invite team members to edit or review the document, of which they will be automatically notified.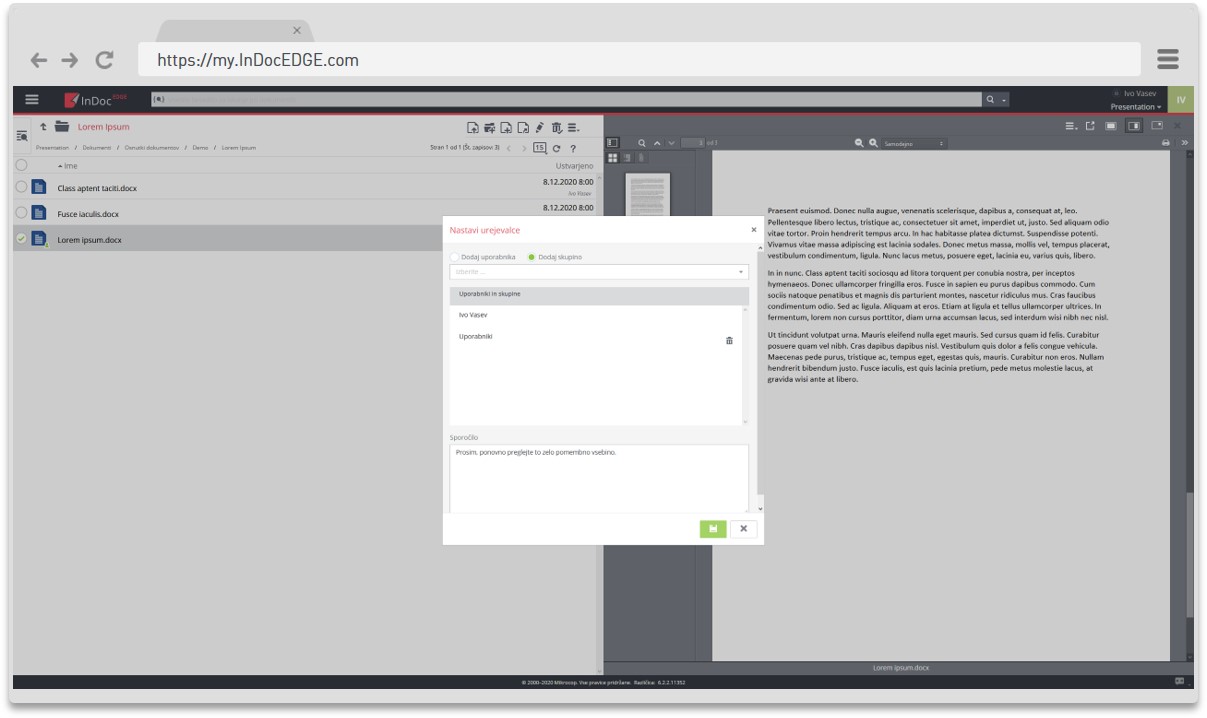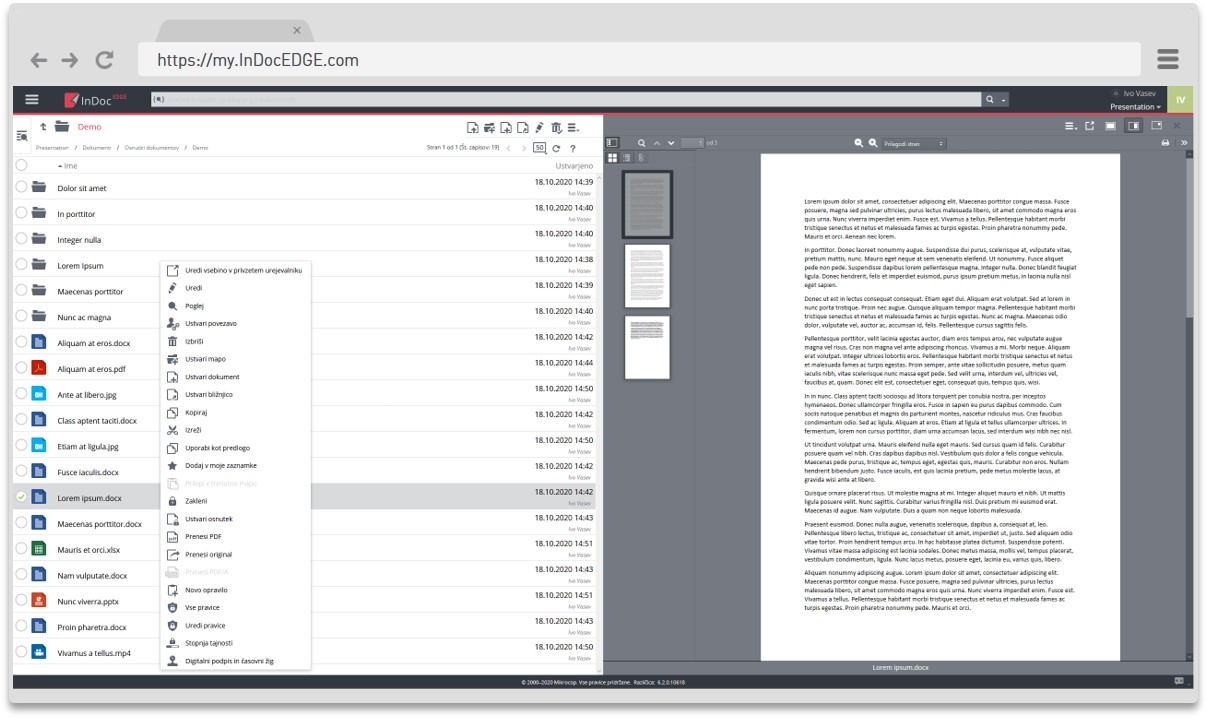 INFORMATION SEARCH
You can search the information to which you have access by metadata, content, or type of information, and use or create queries for advanced search.
SHARING DOCUMENTS
Documents can be shared inside or outside the organization, without any risk to the traceability of use and confidentiality of data exchange.
DIGITAL SIGNING
You can sign a document, send it to your coworkers to sign, or share it with business partners along with the instructions for signing.
ENSURE COMPLIANCE AND SECURITY
USAGE TRACEABILITY
Every activity is automatically recorded in the audit trail which ensures a full and transparent overview of usage and information management.
CONFIDENTIALITY LEVELS
You can choose among six levels of security access, which allows you to effectively control access to information without changing the content.
PERSONAL DATA PROTECTION
You can restrict access to documents containing personal data and request users to submit their reason for accessing a document, if needed.