CUSTOMIZED SOLUTIONS FOR YOUR CHALLENGES
Sometimes we are faced with a challenge that cannot be addressed using standard business solutions. If a compromise is not an option for you, you can create your competitive advantage by implementing customized solutions fully tailored to your challenges and your clients' needs.
Dedicated business solutions which are set on the InDoc EDGE platform, linked to your systems and fully harmonized with your business objectives, can create added value for your business. Customized solutions help you maximize your performance in the complex conditions of the digital environment.
FROM PROBLEM TO SOLUTION – WITH InDoc EDGE
DESIGN
a customized solution
IMPLEMENT
a new business solution
You can use the capabilities of the InDoc EDGE information management platform to boost the development of your own new and arbitrary solutions, fully adapted to your challenges and business needs. Improve your responsiveness and stakeholder satisfaction, minimize exposure to risks and ensure compliant and secure operations.
We can start contemplating a custom solution when we have learned about your needs, expectations and the weight of the issue you wish to resolve. We will then analyze this issue at the workshops and interviews with key stakeholders and work with you to define the potential ways to improve the efficiency of your work practices. After the solution design phase, we define the concrete functional requirements for achieving the set objectives and prepare a detailed kick-off plan.
The implementation of the custom business solution normally includes the establishment of the process and the configuration and parametrization of the solution. Utmost attention is paid to ensuring connectivity with other systems and services, which facilitates (at least partial) automation of execution and reduces errors.
Experience shows that timely communication, engagement and training of users are the most important steps towards effective implementation of change in any organization. The presentation of the changes brought about by digitization is followed by the training phase, when future users are presented with the features and benefits of the new solution through case studies and user stories, whilst key users learn about its complex operations and system administration, if needed. Continuous knowledge sharing is at the focus of all implementation efforts.
In InDoc EDGE, users can track and search for documents by content or descriptive data, edit document versions and comments, use rela-time notification service, benefit from secure and traceable sharing of data with colleagues and third parties, and more. Information is available anytime and anywhere, integrity and authenticity is retained, and the use of data is fully tracked. Document access is restricted by user rights, the level of confidentiality and the content of personal data.
Although the need to store a document only arises in the final stage of its life cycle, it is a fact that efficient, compliant and long-term preservation of digital data is a key component of any digital business and a vital part of its digital reality. The certified InDoc EDGE digital data storage guarantees that data is only available to authorized personnel, easily accessible and ready to use throughout the storage period. It does, however, retain its authenticity and integrity, whilst access is fully traceable.
BENEFITS OF DEVELOPING CUSTOMIZED BUSINESS SOLUTIONS
Efficiency
We increase your efficiency
by optimizing and digitizing
your key business processes.
Knowledge
We understand your industry and the new
business models that can drive your
digital transformation journey.
Reliability
Our competent and experienced team
provides best practices to support you
on your digital transformation journey.
Cloud service
InDoc EDGE can be used
in Mikrocop's private Cloud.
On-premise
InDoc EDGE can be installed
in your data center.
WRITE YOUR DIGITAL STORY WITH THE InDoc EDGE PLATFORM
DOCUMENT MANAGEMENT SYSTEM
Managing document throughout their life cycle helps you efficiently harness the current data chaos.
ELECTRONIC STORAGE SYSTEM
Consistent adherence to the principles of secure electronic storage guarantees long-term legal validity of your documents.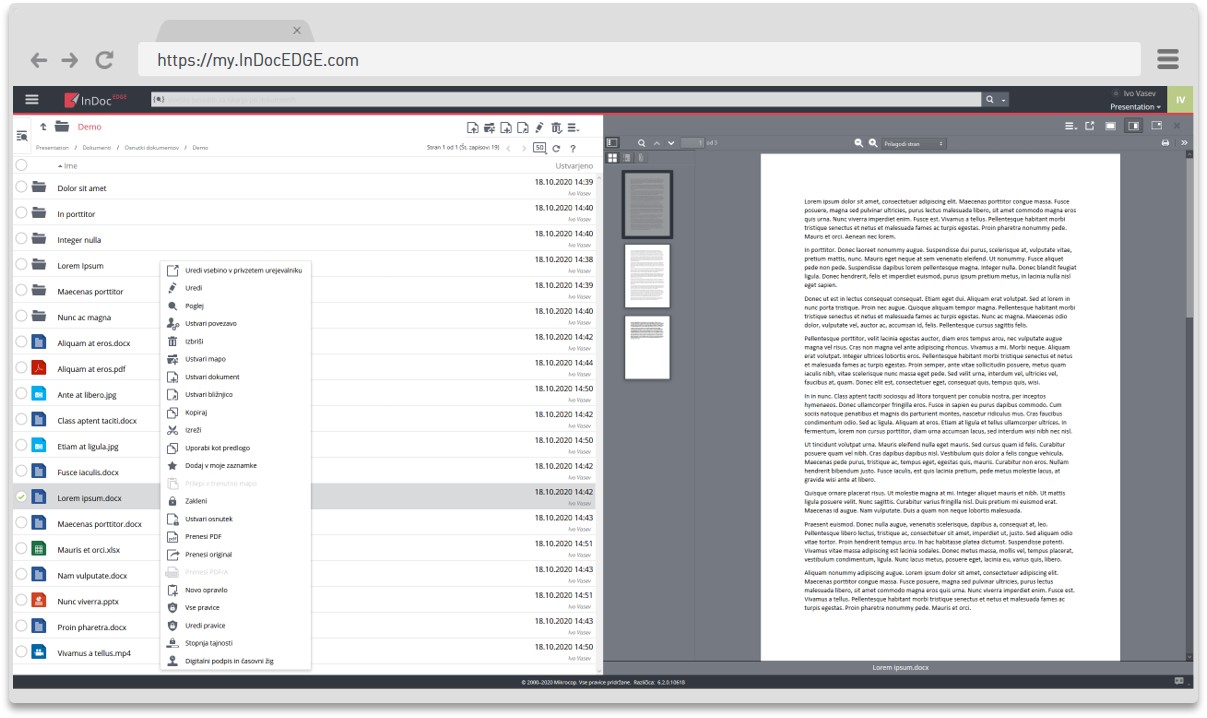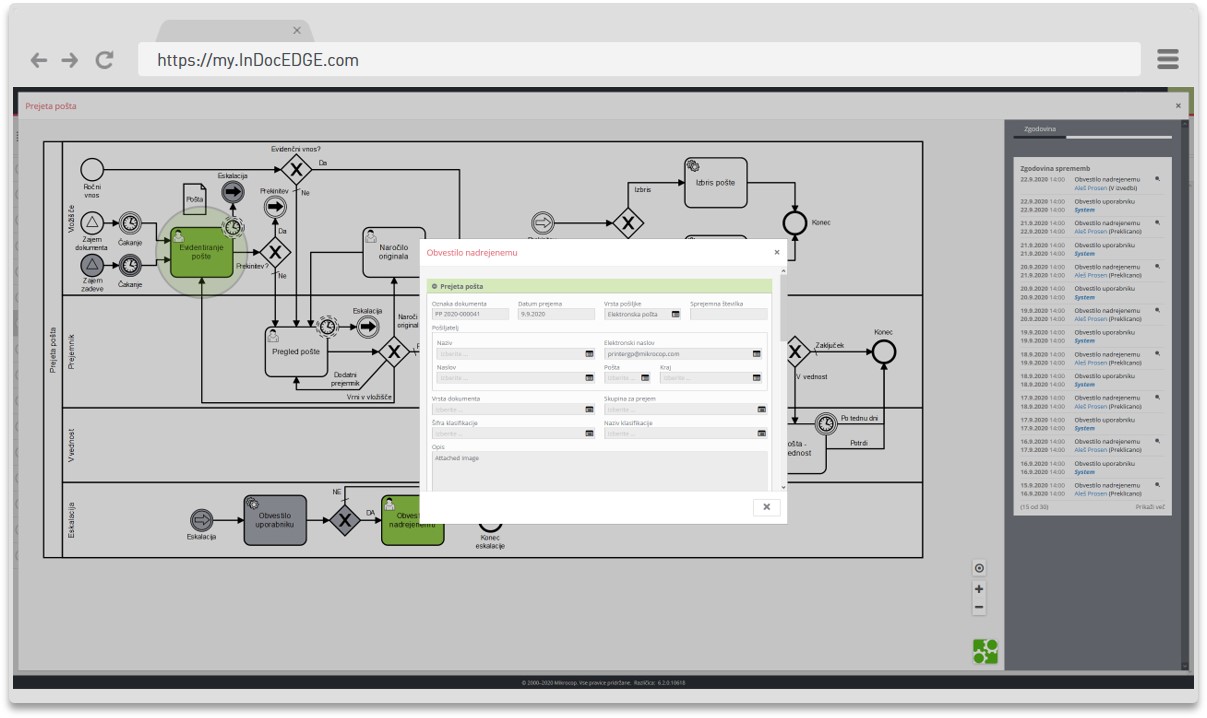 PROCESS MANAGEMENT SYSTEM
Adjust your processes to the challenges of the digital reality to improve your customer experience and make your business leaner, more responsive and secure.
API INTEGRATION
Upgrade your information systems and processes with advanced information management capabilities for great digital customer experience.