CONTRACT MANAGEMENT SOLUTION
Contracts contain data that is key to value creation of your business. Comprehensive contract management reduces business risks, but will likely have the opposite effect if your contracts are still managed manually, without trusted centralized control and traceability.
The contract management solution allows you to handle contracts efficiently and in a controlled manner throughout their life cycle. The solution offers simple, transparent and traceable capabilities that include preparation, content coordination, approval, electronic signing, distribution, amendments and attachments, and compliant e-storage.
FROM A DRAFT TO E-SIGNATURE AND E-STORAGE
APPROVE
and sign electronically
Whether you receive a contract draft from your partner or craft one yourself for the purpose of coordination and approval, the solution will guide you through the following steps.
You can begin the contract management process by capturing a draft contract received from a partner, or by drafting a contract from a preset template in InDoc EDGE or from a template on your computer. In this step, you add all the necessary metadata needed for systemic document storage, retrieval and tracking.
When the contract is prepared, it can be reviewed and revised by a number of reviewers in a predetermined sequence based on business rules. Users receive a task in which they review the data entered, the content of the contract and related documents, and may request additional changes or approval steps.
Contract reviewers can approve the contract simultaneously or in sequence. They can also reject the contract and return it to the preparation and review step. When the contract is confirmed, it is water-stamped, and the contract administrator can submit it to the signatories for electronic signing or arrange for the physical signature of all contracting parties.
When the contract has been signed by both parties and the process is complete, the contract is tagged with appropriate metadata and stored in the certified InDoc EDGE electronic storage system. A contract with all amendments, annexes and attachments will be kept in one folder (subject) and assigned a uniform code.
BENEFITS OF THE BUSINESS SOLUTION
Efficient cooperation
The contract can be simultaneously reviewed
by multiple users, comment exchange is fast,
and the search is easy.
Security of confidential data
Pre-defined user rights and activity traceability
guarantee that the information contained
in the contract is kept secure at all times.
Lower business risks
With centralized management, authorized access to contracts, and traceability, you can avoid the risk of loss or unauthorized contract change.
Cloud service
InDoc EDGE can be used
in Mikrocop's private Cloud.
On-premise
InDoc EDGE can be installed
in your data center.
CAPABILITIES OF THE CONTRACT MANAGEMENT SOLUTION
SISTEMATICITY
Using templates for more efficient work
Approval of all contracts from one system
Quick search by various parameters
Easy access and review of contract contents
TEAM WORK
Effective screening of reviewers and approvers
Ability to comment on documents in the process
Notification of contract changes and status
Possibility of setting reminders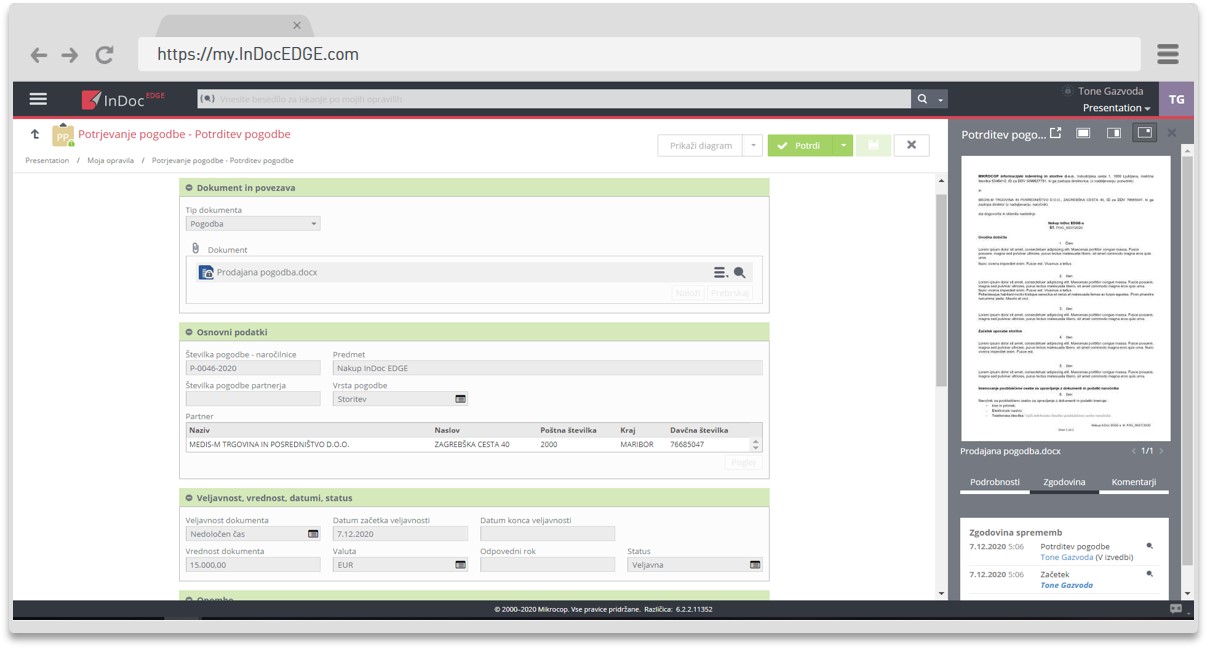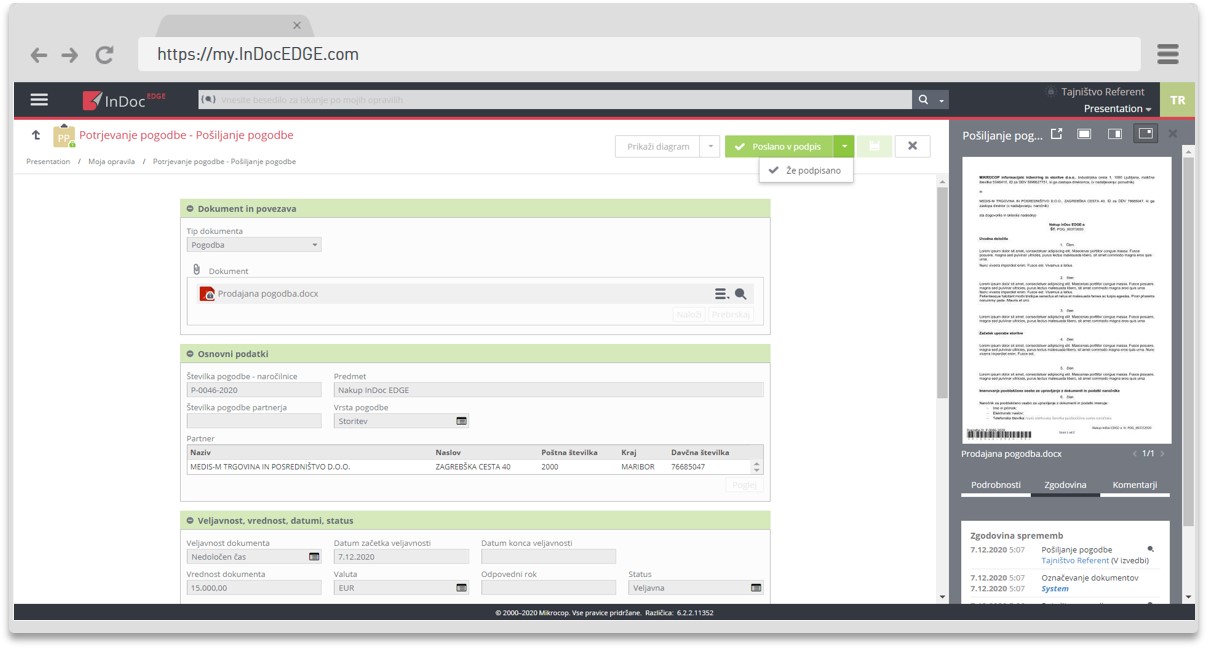 SECURITY
Restricted access and use of confidentiality levels
Advanced system for administration of rights
Comprehensive audit trail of activities
E-signing of approved contracts
CONNECTIVITY
Possibility of upgrading the solution as needed
Connectivity with other business solutions
Connectivity with your ERP system
Connectivity with your other systems