ORDER CONFIRMATION SOLUTION
Do you know that situation when you urgently need something for work, but the procurement process takes forever and a day? Or when an employee ordered something, but later it turned out that the purchase was not confirmed, and it was too late to make a complaint?
Avoid unauthorized costs and lengthy purchase requisition (order) confirmation processes, and make sure that purchase orders are placed on time, with the prior approval of decision makers. Manage your purchasing process starting with the order confirmation phase, ensure traceability and efficiency, and reduce the possibility of error.
TRANSPARENT AND EFFICIENT – FROM PURCHASE REQUISITION TO PURCHASE ORDER
PREPARE
a purchase request
CONFIRM
the purchase requisition
REVIEW AND SUBMIT
the purchase order
The purchase order confirmation process consists of several steps which are adequately supported through the company's organization chart and approval system.
The order confirmation process can be started by any user with appropriate rights. The user starts the process manually from tasks, selects the type of cost and the cost centre, and enters the order data. The user can select suppliers from the pre-set supplier code list and add attachments to the purchase order request. When the order is prepared, InDoc EDGE automatically creates a unique document ID that allows you to track the document throughout the approval process.
Several levels of authorized persons can be involved in the approval process – from team leaders responsible for individual costs to company decision makers. The approval process follows a predetermined sequence, which means that an order cannot be confirmed or completed without the approval of all nominated persons. At each step, these people can either confirm or reject the purchase order, or request an amendment or clarification that goes back to the user who created the order.
Having obtained all the needed approvals, the user who is responsible for the purchase will make a final check and enter the order data into InDoc EDGE, or make a purchase order in the ERP and add it to InDoc EDGE. In this step, the order form can be linked to the relevant contract in the contract register, if such exists in InDoc EDGE.
If the user selects electronic order placement, the purchase order will be sent to the e-mail address of the contact person, and the order form will be placed into the relevant folder in the document management system along with any attachments.
BENEFITS OF THE BUSINESS SOLUTION
Cost optimization
Avoid irregular or unauthorized purchase costs
by establishing a transparent
order confirmation process.
Shorter purchase time
Digitization significantly shortens the time
needed to place an order and enables you
to process more orders in the same period of time.
Higher efficiency
Traceability, accessibility and possibility of quick
order completions or modifications increase
the efficiency of the procurement process.
Cloud service
InDoc EDGE can be used
in Mikrocop's private Cloud.
On-premise
InDoc EDGE can be installed
in your data center.
CAPABILITIES OF THE ORDER CONFIRMATION SOLUTION
TRACEABILITY
Quick entry of order data and data tagging
Adjustment of approval levels to your needs
Creating purchase orders from templates
Linking to contracts in the system
TRANSPARENCY
Monitoring individual phases of the order process
Recording of all process activities
Easy management of user rights
System of reminders and escalations by users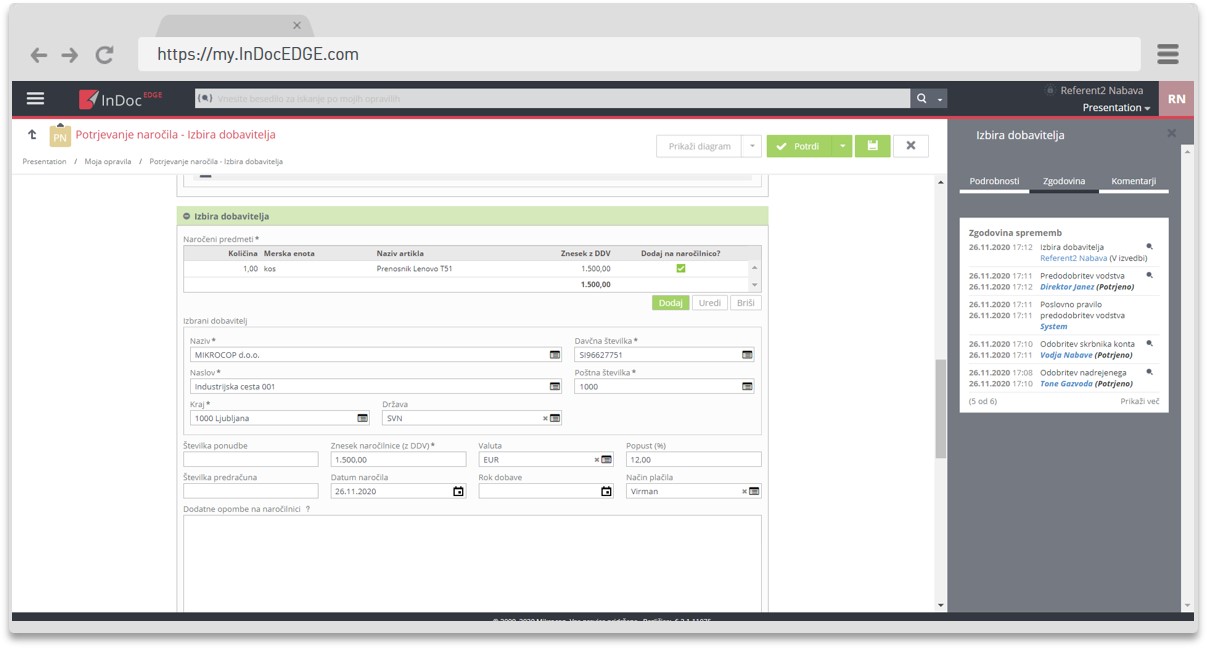 ACCESSIBILITY
Insight into the order in each approval process stage
Quick search of the order archive and current collection
Amending and modifying orders
Adding attachments
CONNECTIVITY
Possibility of upgrading the solution as needed
Connectivity with other business solutions
Connectivity with your ERP system
Connectivity with your other systems