Case study // Compliant document storage as a risk mitigation measure
When poor storage makes it time-consuming, hard, or even impossible to locate a document, when it is unclear who has access to confidential documentation, and the archive consumes more and more space, then it's time to start looking for a system solution to your physical archive.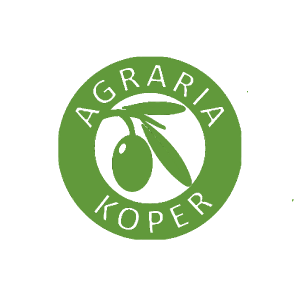 Industry Agriculture, Trade
Kmetijska zadruga Agraria Koper is the second largest common-type agricultural cooperative in Slovenia in terms of collecting the output of fruit and vegetables from its members. Since 1947 KZ Agraria Koper has been bringing together producers of fresh fruit and vegetables from Slovenian Istria. Offering over 30 different types of fruits and vegetables, farmers grow most of their produce outdoor, and some in greenhouses.
KZ Agraria Koper connects farmers, provides support in joint marketing activities and organizes training and workshops on topics related to agriculture, farm management, accounting, and other key skills.In compliance with HACCP standards, KZ Agraria Koper distributes fresh fruit and vegetables to the cooperative-owned grocery stores and public institutes, restaurants and supermarket chains across Slovenia. This means that fresh fruit and vegetables are transported to any part of Slovenia within 24 hours.
We are happy with our current business results but we must look forward and plan for the future. Agraria is not only a very successful cooperative, it is also one of the most reputable. It is growing, developing and expanding, as our business figures and the rising staff numbers clearly show. I am proud that our customers recognize and appreciate quality. Their numbers are rising, and so are their requirements. We provide them with home-grown, locally produced vegetables and fruits, sourced from local farmers and producers. We have managed to find the right way.
– Robert Fakin, director of KZ Agraria Koper
CHALLENGE
Poorly organized storage slowed down document access, placing our business at risk
Many companies are left to deal with poor document control and storage of paper-based documents. Most of them have no proper archival premises, and if they do, storage spaces are inadequate or poorly organized, neglected, documents are filed and stored without any apparent system, and records are scarce if non-existent. Eventually, documents become hard to find and some, even those of key importance for the company, are lost, which may slow down business and put performance at risk.
Such problems were also reported by KZ Agraria Koper, which deals with large volumes of paper documents on a daily basis. Documents are kept on their own premises.
The company used three of its offices as archive rooms, and physical documents (accounting documents, HR records, contracts, real estate documents) were stored there without any apparent system, plan or aim. The same rooms were also used as storage for obsolete IT equipment such as PCs and screens. Eventually, document search became time-consuming and ineffective, and no one really knew what exactly was being kept in the archive.
This unorganized archive was beginning to cause serious issues, and weak document management was already beginning to pose a risk to business. The client decided to take a comprehensive approach to document storage.
DUE TO UNORGANIZED DOCUMENT STORAGE, IT WAS EXTREMELY DIFFICULT TO OBTAIN EVIDENCE OF TITLE FOR AGRICULTURAL LAND AND FORESTS, WHICH CONSIDERABLY LENGTHENED THE PROCESS OF REGULATING THE PROPERTY RELATIONS WITH THE FARMLAND AND FOREST FUND OF THE REPUBLIC OF SLOVENIA.
BUSINESS CHALLENGES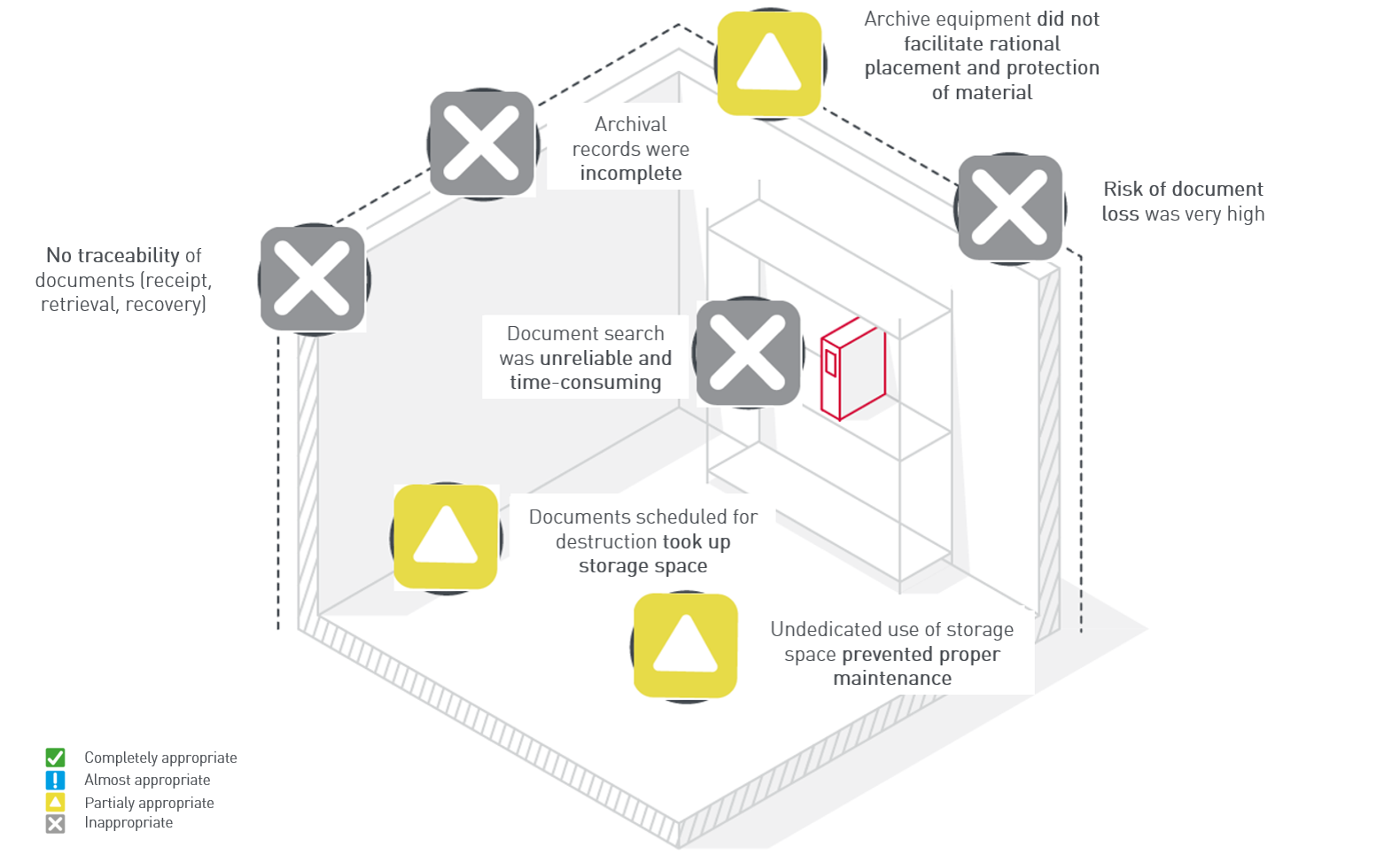 SOLTUION
A storage system solution enabled efficient management of risks
At Mikrocop, we addressed the customer's on-premises storage initiative in a comprehensive manner, and adjusted the scope of services to the current situation and the client's expectations and plans.
At KZ Agraria we first inspected the current situation, made an inventory of all materials (approx. 5,000 lever arch files full of documents) and proposed a new order. The recovery was smooth, and the documents are now systematically stored in three separate archive rooms intended solely for the storage of documents. A detailed list of materials kept was devised for each archive room.
Following a successful recovery, the material past their retention due dates will be securely destroyed. By arranging the archives and eliminating past-retention materials we have freed storage capacity to accommodate the future volumes of paper documents.
20% OF THE MATERIAL HAD TO BE SECURELY DESTROYED , SINCE IT WAS NO LONGER NEEDED AND THERE WAS NO LEGAL REQUIREMENT TO CONTINUE STORING IT.

SOLUTION SHEME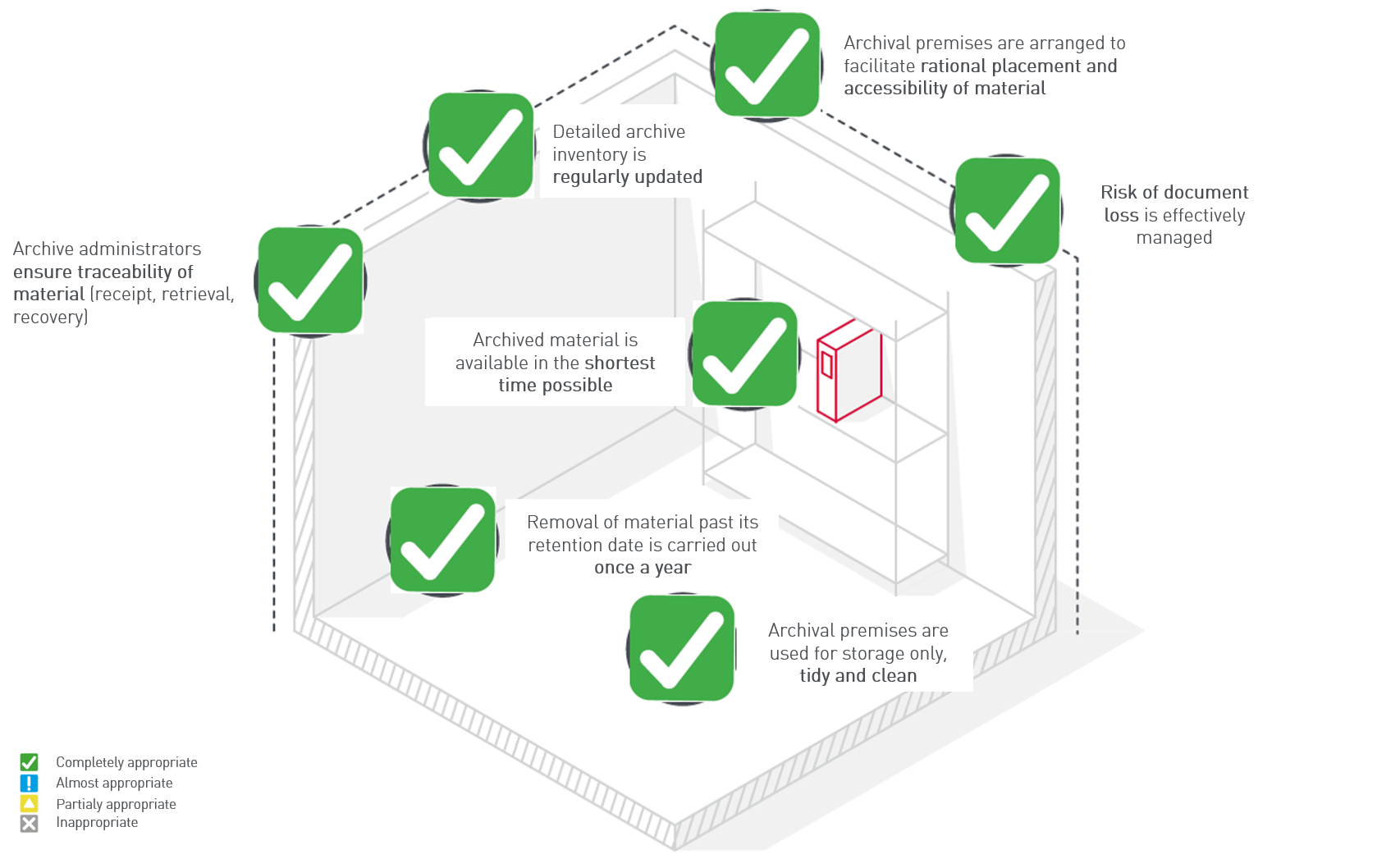 IMPACT
They now find every document they search for
After remediation, the archival premises are well-ordered and clean, and all archived documents can be retrieved in the shortest time possible. KZ Agraria carefully maintains the order, security and accessibility of archive rooms and materials, and employees can only access archived documents when accompanied by archive administrators.
Detailed inventory of archived material ensures that the retention schedule is adhered to and the material is destroyed when the retention periods have been met. Removal of material is carried out once per year in collaboration with Mikrocop, which also provides secure destruction.
Once a year, newly created documents previously kept in office filing cabinets are admitted to the archive. The inventory is updated to make sure that only valid documents are stored in the archive.
DOCUMENT SEARCH THAT USED TO TAKE SEVERAL HOURS IS NOW DOWN TO 5 MINUTES.
When we started, certain documents were nearly impossible to locate, while today the document we need is available in an instant. We outsourced the archiving to Mikrocop, which proved to be the right decision. We were very satisfied with the implemented storage system solution and we continue to work with them. Their response is always quick and professional, and their services are high quality.
– Alenka Teraž, KZ Agraria Koper


Want to know more? Contact us!