With the new partnership with Adacta, we are expanding business benefits for insurance clients
We formed a new partnership with Adacta, which opens up the opportunity for financial organizations to optimize, automate and digitize both internal business processes and those aimed at end customers, which can improve the internal organization and raise the level of user experience.
»The acceleration of digitalisation has encouraged organizations to take a step forward in supporting internal processes as well. With the functionalities of the InDoc EDGE solution for in-house digitalisation, e-signing and efficient document management and with new partnership with Adacta, we will enable an even better digital experience and greater business optimization, as well as expand business benefits for customers with holistic approach to solutions and services offered,« said Tjaša Poljšak, Sales and Marketing Director at Mikrocop.
With its AdInsure solution for digitalization and process management in insurance companies, Adacta is one of those companies that confirms its quality with numerous international references and has also been included in Gartner's Magic Quadrant, thus further strengthening its position in the highly competitive insurance market.
Mikrocop's InDoc EDGE information management platform will complement the AdInsure platform in the field of comprehensive document management and electronic signing, as well as certified legally compliant long-term storage. The combination of both solutions will enable customers a faster, more coherent and safer transition to digital business.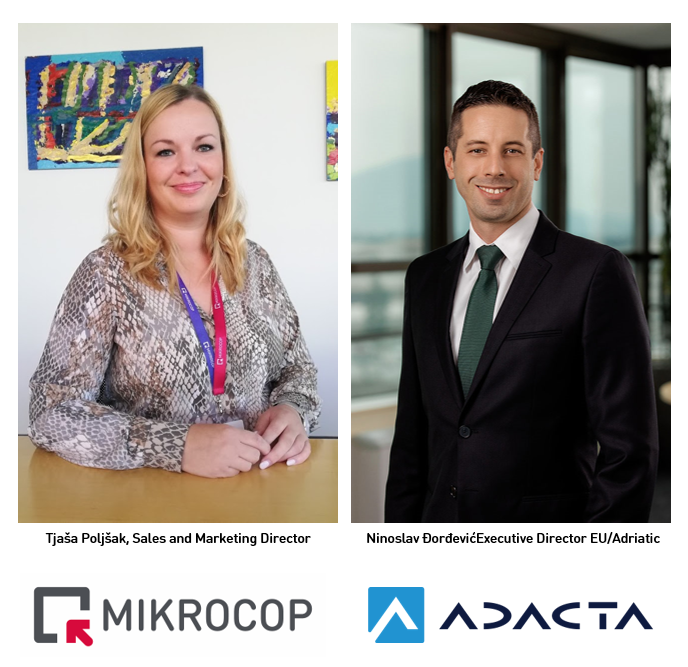 Ninoslav Đorđević, Executive Director at Adacta for the EU and Adriatic region, said abut the partnership: »Many insurance companies still use older systems that prevent organizations from putting both customers and users at the heart of the business model. AdInsure is a modern platform, a digital base for insurance companies of all sizes, regardless of specialization, and allows them to keep up with change, work smarter and introduce new products faster. The partnership with Mikrocop gives our customers access to the top functionalities of the InDoc EDGE solution and additional possibilities to adapt AdInsure to their needs.«
Customers in insurance can look forward to a digital transformation that will cover a wider range of business and provide an even better user experience for both employees and end users of their services.